Podaris provides multiple ways for project collaborators to interact with each other. Collaborator chat is useful for free-flowing, informal or general discussions about a project. (For location or view-specific discussions, use Comments instead.
To activate chat, click on the appropriate icon in the lower-left corner of the window.
Text chat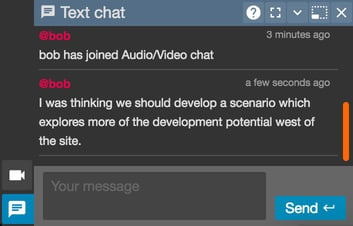 Text chat provides a simple mechanism for sending short text messages to all project collaborators. Web addresses are automatically converted into links.
If the text chat icon is flashing, it means that you have unseen chat messages from your fellow collaborators. Click on the icon to see your unread messages.
Audio / Video chat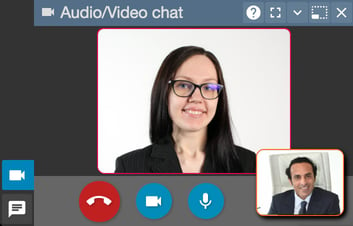 Audio / Video chat allows you to speak directly with any collaborators that are currently working on the project. As soon as you open the A/V chat window, you will be able to see and hear anyone that is currently connected. To start broadcasting yourself, click the green "video camera" button to connect with both audio and video, or the blue "microphone" button to connect with audio only.
When broadcasting, a frame in the lower righthand corner will show you what other collaborators are seeing.
At any time during the call, you can temporarily disable your video camera or microphone by clicking on the video camera and microphone buttons, respectively.
If the A/V chat icon is flashing, this means that one of your collaborators is broadcasting but you aren't seeing it. Click on the icon to join the project chatroom.
A/V chat requirements
The project owner must be an Enterprise subscriber for A/V chat to be enabled.
Your computer must have a microphone for audio chat, and a webcam for video chat, and you must be using an up-to-date web browser. Supported browsers include Firefox, Chrome, Microsoft Edge, and Safari 11. Note that Internet Explorer and Safari 10 or lower are not supported.
When you stat A/V chat for the first time, your browser will request permission to access to the video camera and microphone. This should be granted; if it is not, then you will be able to see and hear your fellow collaborators, but not talk to them.