How to import a project in Podaris:Plan
Importing .podaris, TrakEdit and Geometry Files
To import a project, first click on the New Project button on the main menu, then Import.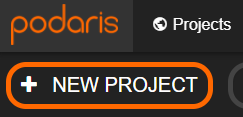 Accepted formats
Podaris currently supports importing projects in the following formats:
| Type | Extension |
| --- | --- |
| Podaris Projects | .podaris |
| TrakEdit | .trk |
For better results, we recommend using the Podaris format. Non-Podaris files may require re-assignment of modes and additional manual clean-up in order to fully take advantage of Podaris' parametric modelling capabilities.