Having created a network and accompanying service, Podaris' journey planner allows you to understand how individual journeys will navigate your multi-modal network.

The Journey Planner tool is designed to help you explore connectivity across your network on given days and times. After selecting your origin and destination, and Podaris will calculate the journey, including wait and walk times for each step based on the services (both scheduled, and on-demand) in your project.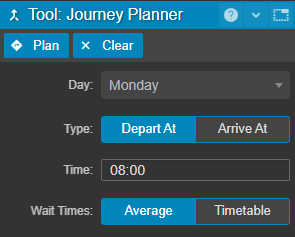 Creating a Journey Plan

In order to create a list of potential journey options across your network, you must first click to specify the point from where the journey originates and the point to which you're travelling. Click-dragging these points will automatically generate a new route.
The Day and Time parameters allow Podaris to calculate all possible routes, according to any frequency or timetable information specified in any services that you have created in your project.
You can also specify whether the Time you have set is the time at which you wish to Depart or Arrive.
Wait times between transfers can be calculated either as an average (taking into account the frequencies of your services) or according to your service timetables. You can find more information about how wait times are calculated here.
Exploring the results
Clicking the

button will allow you to generate a list of possible journeys between your origin and destination. The

button will reset this.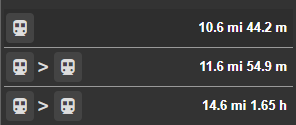 From here you can see the amount of transfers necessary to make the journey, the necessary transport modes, the distance of the journey and the overall time from origin to destination. Clicking one of these possible journeys will give you a full list of all steps in the journey.