To ensure that your projects take full advantage of Podaris' parametric modelling capabilities, it is prudent to adhere to certain design strategies at the planning stage.
Removing extraneous control points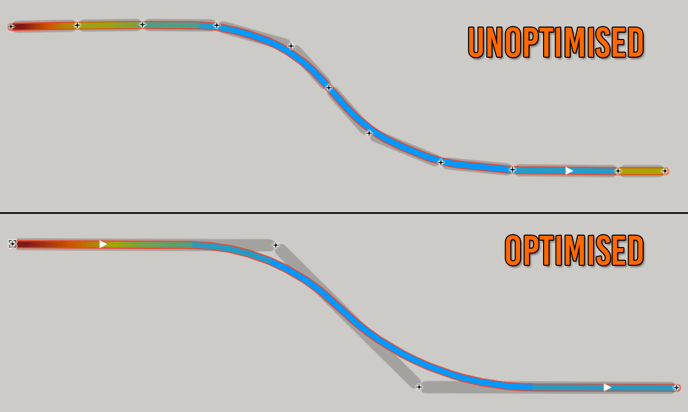 One of the simplest ways to optimise your projects is to delete any unnecessary control points. Removing unnecessary points from a straight section of track has several benefits:
It speeds up the Podaris interface.
It allows Podaris to generate paths is that are as geometrically correct as possible.
While the effect of these extraneous points may seem negligible from a visual perspective, their effect on travel time calculations may be more profound. Accurate, parametrically-generated curves allow Podaris to calculate smoother and more accurate velocity profiles. Conversely, hand-drawn curves will produce slower velocity profiles, as Podaris compensates for the lateral acceleration introduced by small "wobbles" in the path.
This is particularly important for higher-speed transport modes such as Hyperloop, in which small bends can create significant lateral acceleration.
Deleting unnecessary points is as simple as using the erase tool

to remove them with a click.
Defining curves by maximum and minimum radius
Podaris:Plan's constraints-based parametric modelling means that your curves will be optimised for speed and straightness. These automatically generated curves will suit most requirements, although it is possible to set additional constraints in order more fully control the curvature of a path. See the text and video under Understanding How Constraints Work here for more information.