Routes are comprised of patterns and trips. All routes have an associated layer type (bus, metro, rail), and a name, colour, and description.
Routes in Podaris are analogous to real-world routes - for example, the 243 bus route, or a metro route (sometimes called a line) such as the Central Line, or Antioch–SFO/Millbrae line.
From the services panel, click the button to create a new route.
You will be given the option of creating a schedule driven or on-demand route. For the purposes of this tutorial, select 'schedule driven' and click OKAY.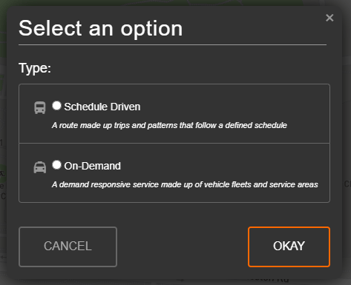 3. Select an infrastructure mode. For this service, we will use 'bus route' and click OKAY.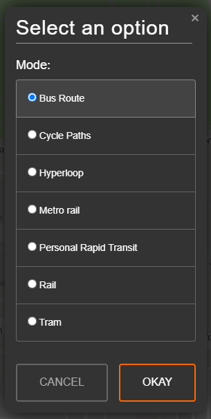 4. This will open the route panel. The three tabs in the route panel allow you to do the following:
Trips: Add, manage, and remove trips, as well as understand the fleet requirements and service level for the entire route.
Patterns: Add, edit, and remove patterns. Additionally, it is where errors and warnings for patterns are shown.
Settings: Rename the route or update its colour.
.
Select the 'Patterns' tab and continue to
'Step 4. Defining a Pattern'..