The map switcher allows you to change your viewport between satellite, terrain, and street maps from many different providers.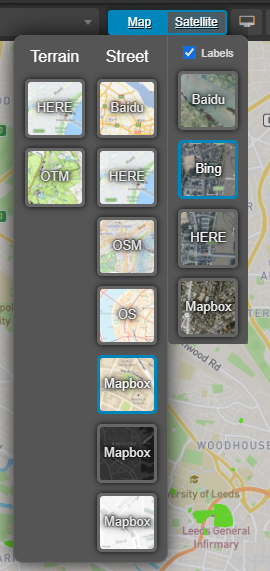 These include:
* Satellite views beyond zoom level 7 are only available in China.
** Mapbox views maps are available in three different styling options but serve the same data.
Clicking on the top of the switcher lets you toggle between map and satellite views. To select an individual provider, hover over the switcher and select a provider from the drop-down menu.
Checking the Labels checkbox when selecting a satellite view will overlay additional data such as street names and road numbers. N.B. Labels are not available on Baidu satellite maps.
Together with the background color, these options give you tremendous flexibility when customising the appearance of the mapping background.
Your map style and accompanying display settings will be saved when creating new views.
Custom maps
If there is an online mapping provider that you would like to see added to Podaris, you can either add a tileset using externally hosted tile servers, or you contact us if you would like them added to Podaris directly.
If you need to use custom imagery, you can create and align your own maps using Podaris:Georef.