Understanding the Project Menu Display
The project menu displays the title of the current project and hosts a variety of settings and functions related to your active project.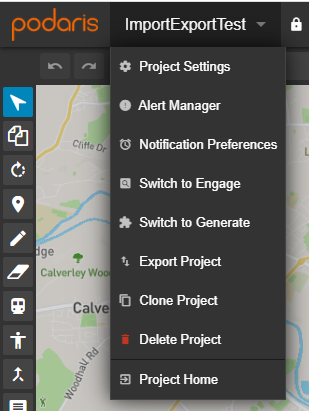 These include:
Project settings. Changes project permissions, renaming your project, etc...
Alert Manager. For managing warnings throughout your project.
Notification preferences Notification Preferences
Switch to Generate mode
Export project - this allows you to download your project in a variety of formats including .PODARIS, GeoJSON, PRTSim, CityMobil and GTFS.
Clone Project. This will create a duplicate of the current project with the title prefix "copy of".
Delete project. This will permanently delete your project.
Project Home. his will return you to the Podaris app home screen.